At 6′ 5″ inches tall, my interest in things small might seem inexplicable, but the fact remains – small things are cool. And there is not much cooler than a Peel P50. Check out the links at left and @ the image of the Peel P50 above for some great shots of this great little vintage wonder.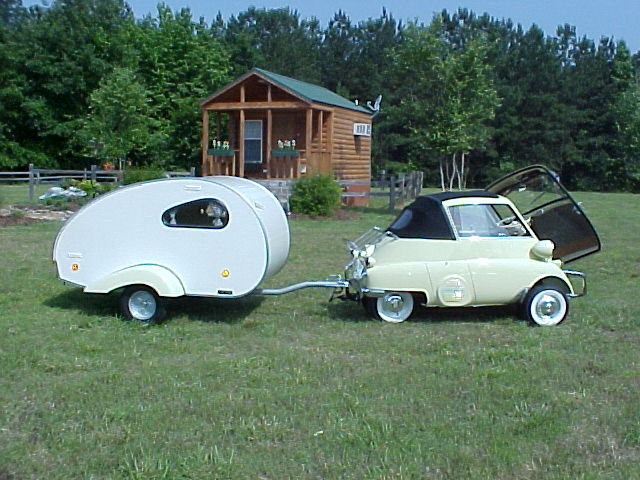 When I was a bit shorter my father worked for Porsche Cars Southwest in San Antonio, Texas, the southwest regional distributor for Porsche ("por sha, not porsh" as he used to say.) I grew up around interesting cars and car people.
So when my young eyes first glimped a BMW Iseta, I knew that it was just about the coolest thing a car could be – small. Of course, the next logical step is to add a teardrop trailer – another growing interest of mine.
An even smaller one can be seen here on the Tales and Trails website.
One wet Portland afternoon Lisa and I set off on one our periodic architecture tours in the downtown area. I decided it was time to visit Portland's smallest park.
It was a perfect, rainy Portland afternoon, the kind that makes color sublime and car tires hiss. Mill Ends Park, created as a home for leprechauns, appears with different vegetative scenery in every picture you will find of it.
Portland being a center of the once booming lumber industry, the term Mill's End refers to the pieces left over in the process of converting tress to lumber. The story of the park's creation is an interesting bit of Portland history and worth investigating at the Portland Parks and Recreation site.